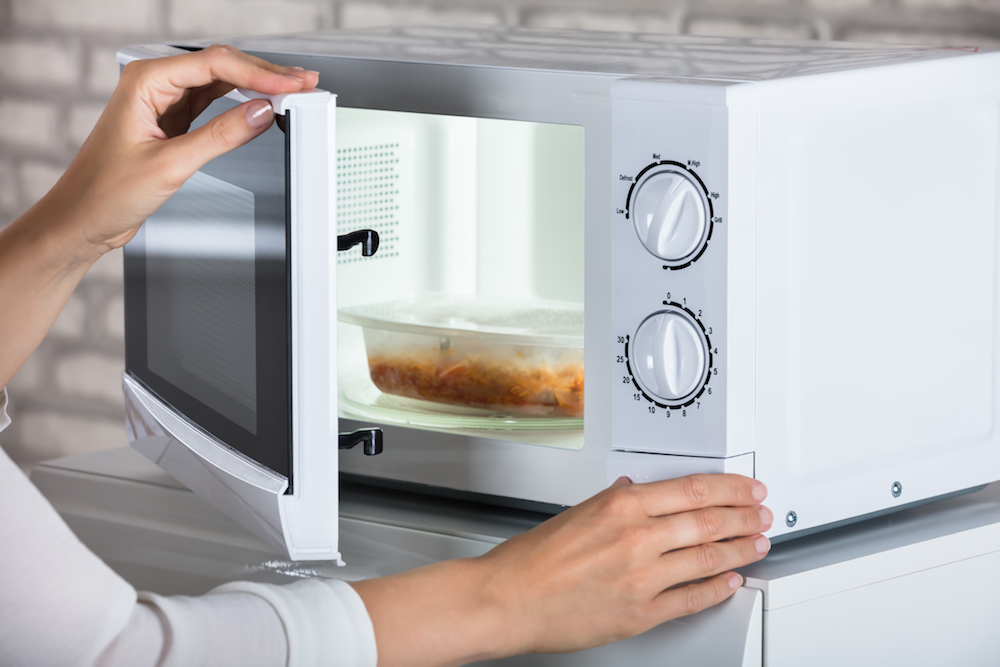 🖨️ Print post
Does anyone in the United States not have a microwave oven? As of 2011, the U.S. Census Bureau reported "nearly universal" coverage—97 percent of U.S. households1—up from about one in four households in the mid-1980s and barely one percent in 1971.2 Apparently anticipating the growth trend that was to come, the Bureau of Labor Statistics added microwave ovens to the Consumer Price Index "basket of goods" over forty years ago.3
Defense contractor Raytheon introduced the first commercial microwave ovens just after World War II, repurposing magnetron tubes used during the war for short-range military radar.4 In fact, according to some historians, microwave radar was "the technology that won the war."5 Seeking new peacetime applications, Raytheon developed and marketed its "massive" and expensive Radarange microwave ovens to restaurants and airlines beginning in 1946; by the mid-1950s, Raytheon was licensing its microwave technology to other companies.4 Relatively affordable consumer models began catching on in the late 1960s, and, as of 2017, North America's nineteen billion dollar market share had made it the "numero uno region" for microwave oven sales.6
EARLY CONCERNS
Despite the microwave oven's meteoric rise to prominence in the American marketplace, consumer groups raised concerns about the appliance's safety early on. In 1974, with an estimated six hundred thousand microwave ovens in U.S. households, Consumers Union told the public to "beware the microwave oven," warning that credible safety data were lacking.7 (Some consumers also remained unpersuaded about the newfangled ovens' cooking abilities. A Connecticut woman stated, "Everything cooks so darn fast. You open the door and it's not done. You leave it in another 30 seconds and it's hard as a rock."7)
Most of the initial health worries about microwave ovens focused on the potential for radiation leakage. Situating microwave ovens in the wider context of the electromagnetic spectrum, an expert tester of microwave ovens wrote in 2010 "In the electromagnetic spectrum there is nothing but a judgemental line of demarcation separating x-rays from microwaves."8 The professional added, "Similar to an x-ray machine, a microwave oven has a tremendous potential for harm if something goes wrong. It belongs, not in a kitchen, but in a laboratory where it is subject to regulation."8 Over time, critics began highlighting other issues as well, raising questions about flavor, leaching of plastics and, perhaps most critically, the altered nutritional and chemical properties of microwaved food.
COOKING FROM WITHIN
Contrary to conventional ovens, microwave ovens heat food "from the inside and not from the outside."9 In a uniquely violent cooking process, microwave ovens bombard food with waves that primarily zero in on a food's water molecules, bouncing "around and through an item being cooked"10 and generating frictional heat.
Microwave ovens operate at a frequency of 2.45 gigahertz (Ghz)—the same radio frequency used by pervasive in-home wireless technologies such as 4G Wi-Fi routers, Bluetooth earpieces, cordless phones and baby monitors.11 What this means is that the electromagnetic waves from microwave ovens (and their fellow electronic devices) "whip every cell within range back-and-forth 2.45 billion times every second," producing, as one writer refers to it, "Shaken Cell Syndrome."12
Although companies and regulators generally are content to let consumers assume "that food from the microwave-oven is not better or worse than food cooked conventionally," the contrary is true.13 In fact, those who have studied the microwave oven's effects on food caution that the ovens not only produce heat but also "athermic" effects, "meaning interaction between microwave radiation and structures in living organisms not caused by frictional heat."14 According to a widely disseminated article written in the mid-1990s, "There are no atoms, molecules or cells of any organic system able to withstand such a violent, destructive power for any extended period of time."15 The result is "destruction and deformation of molecules of food, and. . . the formation of new compounds. . . unknown to man and nature."15
In the early 1990s, Swiss scientists Hans Hertel and Bernard Blanc wondered what happens to people who eat microwaved food. They conducted a small study—self-financed because Switzerland's National Fund argued that "there was no need for research in this particular field of science"14—which showed that microwave-prepared foods caused immediate "abnormal changes in the blood of test-persons indicating disorder."13 Examining a variety of indicators, the research duo found that each one "point[ed] in a direction away from robust health and toward degeneration."15 In calling attention to the "destructive properties of microwaves," they also noted the potential for "an inductive transfer of radiation-energy. . . via irradiated food into living organisms."13
Swiss industry did not take kindly to the results of the study, which raised serious doubts about microwave safety. As Dr. Hertel wrote in 1999, "strong economic interests are at stake which impede the discovery of the truth."16 So great was the immediate industry pushback that Professor Blanc quickly and publicly distanced himself from his results, while privately admitting "that he feared consequences and that the safety of his family was more important to him than anything else."14 Dr. Hertel stood firmer, despite aggressive attempts to tarnish his reputation. His compelling evidence in a 1992 television interview prompted the television host to tell viewers "to take their microwave ovens and put them in the cellar."14 In 1993, a regional court in Switzerland took more decisive action to silence Dr. Hertel, prohibiting him—under penalty of steep fines and even imprisonment—from "declar[ing] that food prepared in microwave ovens is dangerous to health and may lead to pathological changes in the blood as also indicative for the beginning of a cancerous process."17
FOLLOW THE MILK
While the Swiss scientists focused on changes in the blood of humans who consumed microwaved food, other researchers, around the same time, began looking at what microwave heating does to food, and particularly to various forms of milk. This work—which highlighted the worrisome microwave-induced transformation of beneficial nutritional components into more toxic forms—provided further support for the Swiss scientists' contention that microwaved food is a bad idea.
In the late 1980s and early 1990s, researchers showed that microwave warming of frozen human breast milk was "inappropriate" due to the technology's effects on the content of the milk's beneficial IgA antibodies,18 which protect breastfed babies from infection.19 A 1992 study by Stanford researchers confirmed that high-temperature microwaving of frozen breast milk not only "caused a marked decrease in activity of all the tested antiinfective factors" but also allowed undesirable E. coli bacteria to spread eighteen times faster compared to non-microwaved milk.20 Even lower-temperature microwaving accelerated E. coli growth by a factor of five. The Stanford authors concluded that their findings raised questions about microwave safety at any temperature.
In a 1989 letter to the editor of The Lancet, Austrian scientists summarized research showing that microwave treatment of milk formula produced hazardous changes in amino acids (the building blocks of proteins) that could lead to "structural, functional, and immunological changes"; they also reported the presence in microwaved milk formula of an altered form of the amino acid proline which, unlike normal proline, is toxic to the brain, liver and kidneys.21 In a press blurb that picked up on the Lancet letter, the eye-catching headline screamed, "Super-heated babies' milk can lead to brain damage"; the article reported that "the timesaving ovens turn proteins in milk into poisons that attack vital organs. . . with possibly fatal results" [emphasis in original].22
In 2005, a Jordanian-based researcher compared various types of heat treatment (microwaving, boiling and pasteurization) for two types of milk (raw cow's milk and reconstituted powdered milk). Looking at the milk's cholesterol contents, the researcher determined that microwave heating was "highly detrimental to quality compared to the other heating method[s] due to its unique heating mechanism."23 Microwave heating—far more than the other methods—caused a significant increase in the level of carcinogenic cholesterol oxidation products, putting "a big question mark on the use of microwave oven in food processing and preparation." 23 (As a secondary finding, the researcher also noted the nutritional "unsuitability" of powdered milk.)
Milk is a rich source of microRNA (abbreviated as miRNA), which plays an important role in a variety of cell functions as well as immune response. Research has shown that "the deregulation of miRNA is associated with aberrant cell functions leading to cancers and other diseases."24 Although miRNA in milk is generally stable, a 2018 study by Chinese investigators—using electron microscopy and other sophisticated laboratory methods—found that the "miRNA expression and total RNA content of the microwaved [cow's] milk samples were lower when compared with untreated [cow's] milk."24 Noting other researchers' belief that "microwaving not only destroys nutritional components, such as whey proteins, but also results in DNA damage," the authors stated that they "could not exclude the possibility that microwaves directly damage RNA."24
At present, the Centers for Disease Control and Prevention (CDC) advises American consumers never to thaw or heat breast milk in a microwave, stating that microwaving "can destroy nutrients. . . and create hot spots."25 U.S. hospitals warn against microwaving formula or breast milk for the same reasons.26 However, researchers in countries such as Israel27 and Japan28 are now advocating "high-power" microwaving of human milk for the purpose of eradicating cytomegalovirus (CMV). Displaying scientific amnesia about the conclusive body of earlier research on the dangers of microwaved milk, these investigators are calling for new studies to assess the effect of microwave heating on breast milk's bioactive properties.27,28
OTHER DANGERS
Several other lines of inquiry have prompted doubts about the virtues of microwave cooking, including early research demonstrating the ovens' propensity to cook unevenly. As researchers noted years ago in The Lancet, uneven heating "and the presence of relatively cool regions" allows bacteria to survive even when "very high temperatures are recorded in other parts of a food."29 In 1981, in a "setback" for pork lovers, the Los Angeles Times described how the U.S. Department of Agriculture (USDA) suppressed evidence that microwaved pork—due to inconsistent cooking—could harbor the organism that causes trichinosis.10 According to the press report, the USDA kept the results of its study under wraps for months "for fear of alarming the public."
Microwaving has also led to legitimate worries about leaching of plasticizers such as phthalates and bisphenol-A (BPA) into microwaved food. Again, this is not a new concern. The New York Times noted in 1989 that "before microwave ovens, foods were not exposed to plasticizers at temperatures so high that the plasticizers became part of the food."30 Current research emphasizes the importance of considering the characteristics of the food being microwaved, and particularly its fat content, given that plasticizers such as phthalates are fat-loving.31
Although containers are now available that are promoted as "microwave-safe," a 2014 study documented phthalate migration from microwavable polypropylene containers that were not supposed to contain plasticizers.31 Moreover, even when plastics are not involved, microwaving has the potential to trigger migration of other toxic substances, depending on the type of container or food packaging. A study of pre-1950s ceramic dishware found that the dishes leached "dangerously large amounts of lead" when used to microwave common foods.32 And in 2016, when researchers considered a novel food packaging material (nanosilver-coated low-density polyethylene), they found that microwave heating triggered silver nanoparticle migration that was "significantly higher when compared with oven heating for similar temperatures. . .and identical exposure times."33
Microwave popcorn bags are lined with chemicals that break down into perfluorooctanoic acid (PFOA), a toxin linked to infertility and cancer that is also found in Teflon pots and pans. As a result of microwaving, the PFOA migrates to the popcorn oil, where it produces concentrations that are "hundreds of times higher than the amount of PFOA that could migrate from nonstick cookware."34 According to a study by the U.S. Food and Drug Administration (FDA), "millions of unwitting consumers" may be ingesting PFOA from their microwaved popcorn; about ten bags of microwave popcorn a year could account for about 20 percent of the "average PFOA levels now measured in the blood of U.S. residents."34
DECLINE OR BOOM?
The microwave oven industry is intent on increasing its market in other countries such as India and China, where consumers increasingly are inclined toward a "high outlay on first-rate kitchen appliances."6 The microwave oven also has a long-established presence in Japan (home of leading microwave manufacturer Panasonic), where the average home size for a family of four is about eight hundred square feet. In that context, kitchens tend to be "quite compact"35 and may include just a two-burner cooktop and a combination microwave-convection oven.36 Online Japanese cooking courses promote "new and exciting recipes for fish which are cooked using a microwave," extolling advantages such as "no greasy pans to clean after cooking."37
U.S. market research tells conflicting stories about where the microwave oven is going from here. On the one hand, some are predicting the appliance's "slow death," arguing that Americans are tired of it and that microwaves "aren't cool anymore."38 To support these claims, observers cite growing interest in haute cuisine and the popularity of slow cookers and crock pots as well as the "negative stigma" arising from lingering concerns "about radiation emitted by the ovens and the possibility that they lower the nutritional value of foods."38
On the other hand, sales of "premium" and built-in (as opposed to countertop) microwaves are booming.39 In addition, technocrats' continued push for "smart" homes is expected to drive future demand for "smart" microwave ovens that "can be connected to the end-user's smartphone and monitored remotely."39 Other innovations—such as "advanced speed-cook modes, interactive recipe databases, and. . . colors that complement the kitchen decor"—may also help stave off the microwave's demise, at least for a time.39
Judging by these market trends, the suppression of critical research has been successful, leaving the majority of American consumers still in the dark about microwaves' negative effects on food and human health. As one writer put it, back in 1992, "A funny thing happened on the way to the bank with all that microwave oven revenue—nobody thought about the obvious. Well, nobody who had any clout thought about it. Only 'health nuts' who are constantly aware of the value of quality nutrition, and the widespread 'denaturing' of our sustenance."40 Nonetheless, the fact is that the jury has long been in—and microwaves should be kicked out of every kitchen.
---
SIDEBARS
TRANSFER OF MICROWAVE ENERGY VIA FOOD INTO BLOOD
In his study, Dr. Hans Hertel asked the question, "Does the microwave energy accumulate in the food, and does it pass from the food into the blood?" The study's results suggested that the answer is yes. Dr. Hertel wrote: The energy which allows a body to maintain and control its functions is derived from sunlight, and is absorbed directly from the sun's rays as well as indirectly, i.e. by means of food. If this energy is changed, such as in the case of microwave radiation, then it retains its destructive quality in the food and consequently in the blood of the body that consumed it. The problem then lies not only in the fact that the destructive energy remains hazardous in the food, but also that it damages the body afterwards in the same way.14
RUSSIAN RESEARCH ON MICROWAVE OVENS
In contrast to the dearth of U.S. research on the microwave oven's downsides, Soviet scientists conducted extensive research following World War II, having observed adverse effects from the radar technology that gave rise to microwave ovens. In 2000, the newsletter, What Doctors Don't Tell You, provided a summary of this alarming body of research.41
First, Soviet scientists documented significant decreases in the nutritional value of microwaved foods—by some accounts, a 60 to 90 percent decline.42 This included notably decreased bioavailability (and absorption) of many vitamins and minerals, and lowering of metabolic activity of key substances in fruits and raw, cooked or frozen vegetables—even when microwaved for only a short time.
Second, the scientists described how accelerated structural breakdown and changes in food chemistry resulted in the creation of toxic byproducts in microwaved food, including cancer-causing agents and destabilized protein compounds in meat; carcinogenic substances in milk and grain compounds; cancer-causing free radicals in some plant substances (especially raw root crops); and "a binding effect to radioactivity in the atmosphere."
Third, in individuals who ingested microwaved foods, Soviet researchers documented:
• A higher percentage of cancer cells in the blood;
• Degeneration of the immune system and the body's ability to protect itself from malignant tumors;
• Digestive system disorders and gradual destruction of the digestive and excretory systems;
• A statistically higher incidence of stomach and intestinal cancers.
Finally, Soviet researchers showed that the microwave field created by the ovens could cause health problems within a five-hundred-meter radius, including deformed composition of the blood and lymph areas, degeneration and destabilization of cell membranes, interference with the brain's electrical nerve impulses, central and autonomic nervous system problems, and a cumulative loss of vital energy.
In 1976, this damning body of research prompted the Soviet Union to ban microwave ovens. Unfortunately, the ban was lifted in the 1990s after Perestroika "to promote free trade,"43 and use of microwave ovens became commonplace. Now, Russian scientists who dare to question microwave safety get attacked and vilified just as they do in the West (Natasha Campbell-McBride, personal communication).
AN EXPERIMENT
To assess assertions about microwave oven effects, you can conduct the following experiment (which made the rounds of online chat groups in the early 2000s):
1. Obtain two small house plants that are as similar as possible in all aspects (e.g., type, size, pot size/type, soil).
2. Label the two plants "A" and "B" and place them side by side so that their growing conditions (sunlight and temperature) are identical.
3. Label two glass water containers "A" and "B" to correspond to each plant.
4. Water the plants on the same schedule and using identical quantities of water. However, for plant "B" use water that you have previously microwaved for thirty to sixty seconds (in a microwave-safe container); be sure to allow the water to cool completely before using it for watering.
5. Document the plants' health daily.
As summarized in a 1999 health newsletter (NATRENNews, March-April 1999), MIT scientist Dr. Chiu-Nan Lai conducted a similar experiment with wheat grass, described in her book, The Pursuit of Life.44 After ten days, wheat grass watered with microwaved water "grew only 60% in height and 50% in weight" compared to wheat grass watered with water warmed with electric heat.
---
REFERENCES
1. Liegey PR. Microwave oven regression model. Bureau of Labor Statistics; 2001. https://www.bls.gov/cpi/qualityadjustment/microwave-ovens.htm.
2. Siebens J. Extended measures of well-being: Living conditions in the United States: 2011. United States Census Bureau; September 2013. https://www.census.gov/history/pdf/sipp-data-appliances.pdf.
3. Lafrance A. A history of technology, via the Consumer Price Index. The Atlantic, April 5, 2016.
4. Ackerman E. A brief history of the microwave oven: where the "radar" in Raytheon's Radarange came from. IEEE Spectrum, Sep. 30, 2016.
5. https://www.military.com/2018/01/16/tuxedo-park-how-microwave-radar-won-world-war-ii.html.
6. Transparency Market Research. Global microwave oven market: snapshot. https://www.transparencymarketresearch.com/microwave-ovens-market.html.
7. Dullea G. Microwave ovens: amid some doubts, their popularity grows. The New York Times, March 19, 1974.
8. Ozark Water & Air Services. The great microwave coverup! July 6, 2010. http://ozarkwaterandair.org/articles/the-great-microwave-coverup.
9. Boston G. Cooking inside out: microwaves not nuclear, despite myth, and not hot. The Washington Times, March 6, 2003, pp. B1, B4.
10. Puzo DP. Setback for microwave pork dishes. Los Angeles Times, June 4, 1981.
11. Herman J. Why everything wireless is 2.4 GHz. Wired, Sep. 7, 2010.
12. Microwave ovens & health issues. https://www.helladelicious.com/our-food/food-facts/2011/02/microwave-ovens-health-issues/.
13. Blanc BH, Hertel HU. Comparative study about food prepared conventionally and in the microwave-oven. Raum & Zeit. 1992;3(2):43-48.
14. Are microwave ovens a source of danger? The Journal of Natural Science. 1998;1(2):2-6.
15. The proven dangers of microwaves. Available at https://www.mercola.com/article/microwave/hazards2.htm.
16. Hertel HU. Microwave ovens: a hazard to health. Alarming results of a scientific study. The Journal of Natural Science. 1999;2(4):7-10.
17. Schaller R. Are microwave ovens exempt from criticism? The Journal of Natural Science. 1999;2(4):10-11.
18. Sigman M, Burke KI, Swarner OW, Shavlik GW. Effects of microwaving human milk: changes in IgA content and bacterial count. J Am Diet Assoc. 1989;89(5):690-2.
19. Hanson LA, Söderström T. Human milk: defense against infection. Prog Clin Biol Res. 1981;61:147-59.
20. Quan R, Yang C, Rubinstein S et al. The effects of microwave radiation on anti-infective factors in human milk. Pediatrics. 1992;89(4 Pt. 1):667-9.
21. Lubec G, Wolf C, Bartosch B. Aminoacid isomerisation and microwave exposure. Lancet. 1989;2(8676):1392-3.
22. Super-heated babies' milk can lead to brain damage. Examiner, Feb. 13, 1990, p. 21.
23. Herzallah SM. Influence of microwaving and conventional heating of milk on cholesterol contents and cholesterol oxides formation. Pak J Nutr. 2005;4(2):85-8.
24. Zhao Z, Yu S, Xu M, Li P. Effects of microwave on extracellular vesicles and microRNA in milk. J Dairy Sci. 2018;101(4):2932-40.
25. Proper storage and preparation of breast milk. https://www.cdc.gov/breastfeeding/recommendations/handling_breastmilk.htm.
26. Warming formula or breast milk. https://www.cincinnatichildrens.org/health/w/warmformula.
27. Ben-Shoshan M, Mandel D, Lubetzky R et al. Eradication of cytomegalovirus from human milk by microwave irradiation: a pilot study. Breastfeed Med. 2016;11:186-7.
28. Mikawa T, Mizuno K, Tanaka K et al. Microwave treatment of breast milk for prevention of cytomegalovirus infection. Pediatr Int. 2019 Jul 8.
29. Lund BM, Knox MR, Cole MB. Destruction of Listeria monocytogenes during microwave cooking. Lancet. 1989;1(8631):218.
30. Burros M. Eating well. The New York Times, Aug. 16, 1989.
31. Moreira MA, Andre LC, Cardeal ZL. Analysis of phthalate migration to food simulants in plastic containers during microwave operations. Int J Environ Res Public Health. 2014;11(1):507-26.
32. Sheets RW, Turpen SL, Hill P. Effect of microwave heating on leaching of lead from old ceramic dinnerware. Sci Total Environ. 1996;182(1-3):187-91.
33. Hannon JC, Kerry JP, Cruz-Romero M et al. Assessment of the migration potential of nanosilver from nanoparticle-coated low-density polyethylene food packaging into food simulants. Food Addit Contam Part A Chem Anal Control Expo Risk Assess. 2016;33(1):167-78.
34. Renner R. It's in the microwave popcorn, not the Teflon pan. Environmental Science & Technology, Jan. 1, 2006.
35. Otoh M. The mystery of the fish grill and the trials of baking. The Japan Times, Aug. 26, 2017.
36. A super-efficient Japanese kitchen. http://www.justhungry.com/super-efficient-japanesekitchen.
37. Simple and easy Japanese fish recipes cooked in a microwave. https://www.udemy.com/course/simple-and-easy-japanese-fish-recipes-cooked-in-a-microwave/.
38. Ferdman RA. The slow death of the microwave. Quartz, Mar. 19, 2014.
39. Top 3 trends impacting the microwave oven market in the US through 2020: Technavio. https://www.businesswire.com/news/home/20160901005022/en/Top-3-Trends-Impacting-Microwave-Oven-Market.
40. Valentine T. What happens when Americans consume tons of microwaved foods? Search for Health, Sept/Oct 1992, pp. 2-13.
41. Best S. Microwave ovens: a recipe for cancer. What Doctors Don't Tell You. 2000;10(12):1-4.
42. Mercola J. Why you should avoid microwave cooking. Townsend Letter for Doctors & Patients, June 2001, pp. 128-9.
43. This is why microwave ovens banned in Russia. http://www.thehealthconsciousness.com/microwave-ovens-banned-russia/.
44. Lai C-N. The Pursuit of Life. Lapis Lazuli Light; 1993.
This article appeared in Wise Traditions in Food, Farming and the Healing Arts, the quarterly journal of the Weston A. Price Foundation, Fall 2019
🖨️ Print post