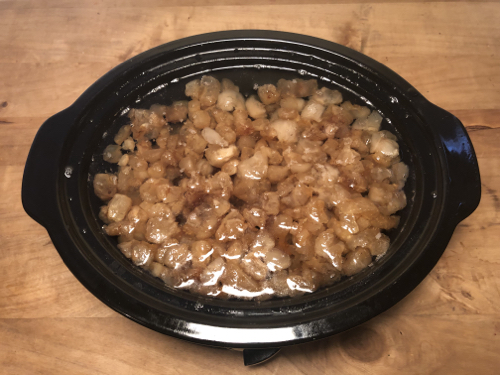 🖨️ Print post
Saturated animal fats are not villains! They are filled with essential vitamins A, D, K2 and E, among many other nutrients that support our entire body's ability to manufacture the hormones that keep us stay healthy, happy and strong. Excellent for pan frying, deep frying, and baking of sweet and savory dishes alike. All you need is fat, and heat!
Makes 1L
Ingredients
• Pasture raised animal fat (back fat, kidney/leaf fat, suet, fat trimmings or poultry fat)
Instructions
1. Cut fat into small cubes.
2. Place in a crock pot or stock pot and cook covered on low heat for 8-12 hours or until fat has liquefied and browned "cracklings" float on the surface.
3. Cook an additional hour uncovered to ensure any water steams off.
4. Strain via metal sieve and pour into sterilized mason jars or clean containers.
5. Store in your fridge or freezer.
Note: Fat is where mammals store toxins. Only use fats from the healthiest and happiest animals that have been raised in a clean environment on natural diet free from insecticides, herbicides, pesticides, antibiotics, vaccines and hormones.
🖨️ Print post