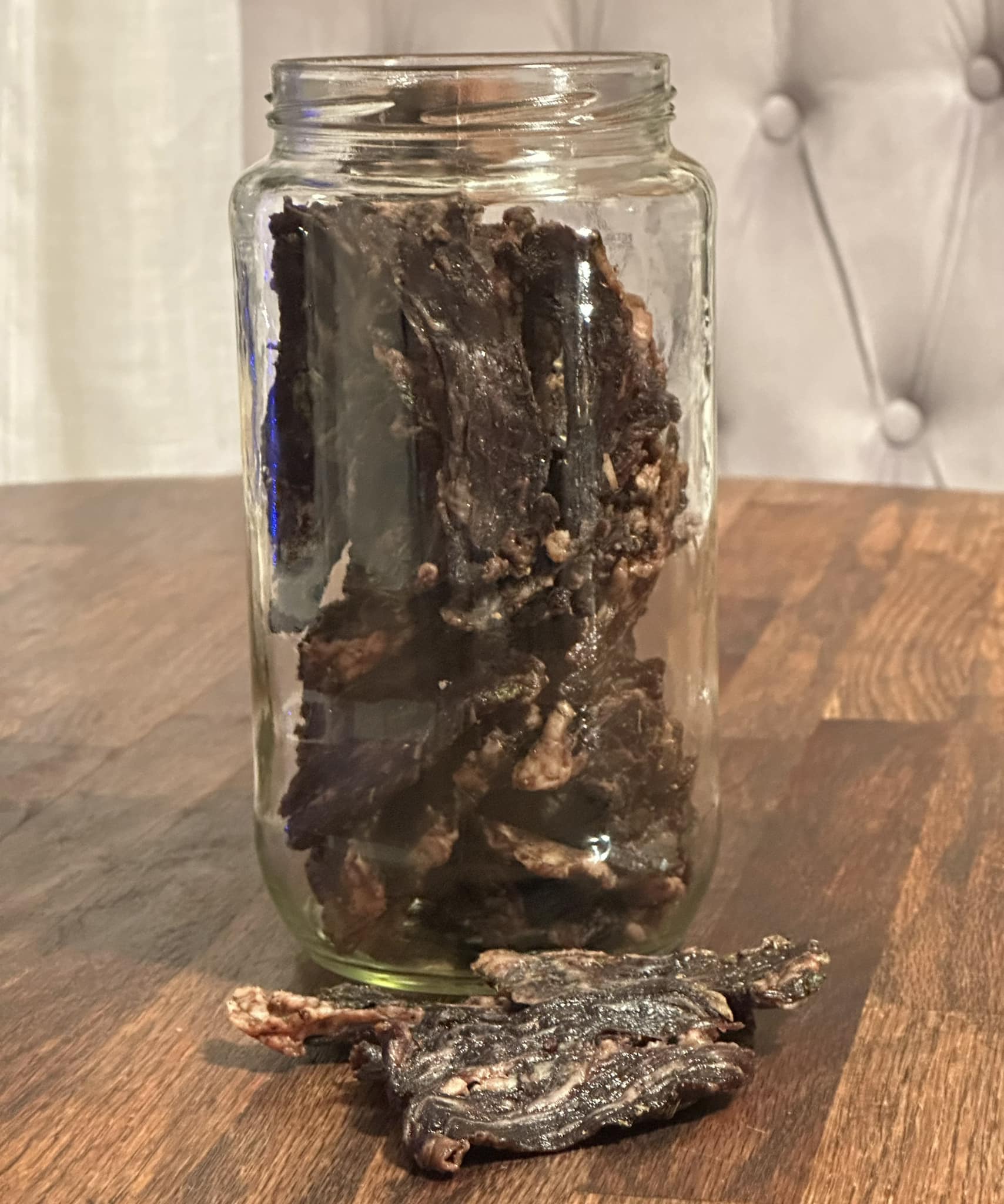 🖨️ Print post
Fermenting with kombucha vinegar adds probiotics and enzymes to meat and it helps to preserve it!
Ingredients
2 cups kombucha vinegar – see instructions below!
2 tsp Redmond salt
8 fermented garlic cloves, mashed into paste in pestle and mortar
2 tbsp Worcestershire sauce
fresh ground pepper
2 tbsp fermented mustard
3 tbsp finely chopped herbs-rosemary, basil, lovage, ramps
You can substitute spices, flavors, herbs for whatever you have on hand, or whatever flavors you prefer.
2 lb organic, pasture raised skirt stake
Instructions
Mix all marinade ingredients together.
Slice meat into 1/4-inch slices with the grain of the meat. After slicing, place the meat slices in your marinade. They should be fully covered with marinade.
Marinate in fridge 24 hrs.
This gives time for the marinade to fully permeate the meat, and for the kombucha bacteria to help get rid of any unwanted bacteria in the meat.
Place the marinated meat on dehydrator trays and dry at 170F (I use my oven bread proof program) until fully dry and crisp. About 24 hrs.
Store it in glass jars for up to 2 months!
Instructions for Kombucha Vinegar
Leave kombucha in a jar.
Wait until it turns to vinegar.
End of instruction.
It may take 2-3 months (or up to years, when making aged vinegar, longer it sits, better it gets) for your kombucha to turn to vinegar, but once it makes your mouth pucker, and new SCOBY is about 1 inch thick, then it's ready.
🖨️ Print post