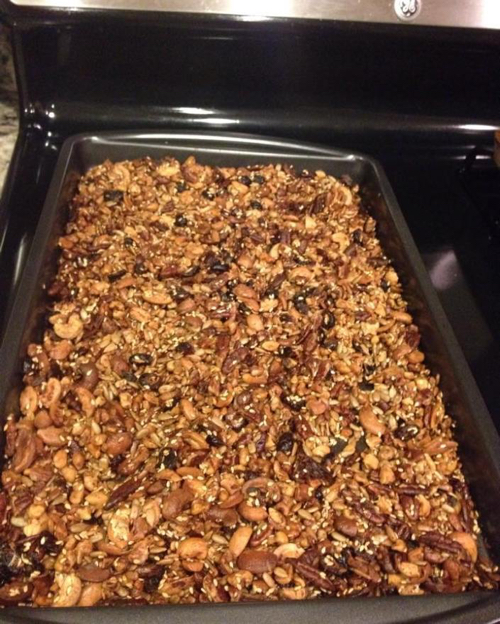 🖨️ Print post
My family LOVES granola but the store-bought brands are FULL of added sugars on top of more sweeteners mixed with added flavors and preservatives. So I decided to create one that they will love and that has nutritional value and easy digestibility too. This granola is made with organic oats that are soaked in water and kefir. I add my favorite mix-ins and it then gets put into the oven at a VERY LOW temperature for 6-12 hours. This low temperature allows the enzymes and nutrients in the kefir, oats and nuts to remain, helping our body digest all that yummy goodness. This batch has raisins, cranberries, pumpkin seeds, sunflower seeds, coconut, cashews,  bananas, raw honey and lots of cinnamon. The house smelled AMAZING! 
Ingredients
5 cups organic rolled oats
4 cups HOT filtered water
1/2 cup kefir
1/2 cup coconut oil
1/4 cup melted butter
3/4 cup raw honey
3 very ripe bananas, mashed
1 Tbsp cinnamon
Options for add-ins:
cranberries
raisins
dried apricots
soaked and dried cashews
soaked and dried almonds
soaked and dried pumpkin seeds
soaked and dried sunflower seeds
shredded coconut
Instructions
Mix water, oats and kefir in a bowl and let sit at room temperature for 24 hours. Add in the remaining ingredients after it has soaked.

 

Spread mixture 1/4 inch thick on a jelly roll pan lined with parchment paper or grease a stoneware jelly roll pan with coconut oil and spread mixture.
Place in a 200°F oven for 6-12 hours until crisp.

 

Serve as a snack on its own, add to yogurt or eat as a cereal. Enjoy!
🖨️ Print post