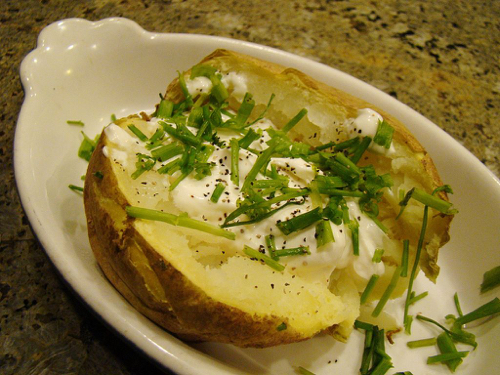 🖨️ Print post
I consider garlic* so much more important than a simple salad dressing ingredient, which is mostly what many of us use it for. I add garlic to almost everything I eat. Below is one of my own homemade recipes: my great afternoon potato snack, which is a super relaxer and wind-down remedy/food combo. This makes a calming mid or late afternoon snack that supplies healthy carbohydrates and probiotics. Additionally, it makes for a great night's sleep—however, I don't recommend eating this right before you go to bed.
Ingredients
1 medium organic brown potato
Lard, tallow, or coconut oil (for rubbing potato skin)
½ cup yogurt sour cream, or crème fraîche
3 tablespoons raw or organic butter
3 cloves garlic, minced or crushed well
2 teaspoons organic fresh (preferred) or dry dill weed
1 teaspoon kelp flakes (or to taste)
Unrefined salt and pepper (to taste)
Instructions
Preheat oven to 375°F. Wash and dry potato. Rub the skin with lard, tallow, or coconut oil.
Bake in an uncovered pan until a knife goes in easily.
Remove from oven. Split potato open and slightly squeeze on either side.
Mix yogurt sour cream or crème fraîche with butter, garlic, and dill. Spoon mixture over the potato. Add kelp flakes, salt, and pepper to taste.
For making your own yogurt sour cream, I recommend this recipe from Loving Our Guts. For making crème fraîche, I recommend this recipe from Plan to Eat.
*For more information on garlic, see this blog post.
🖨️ Print post