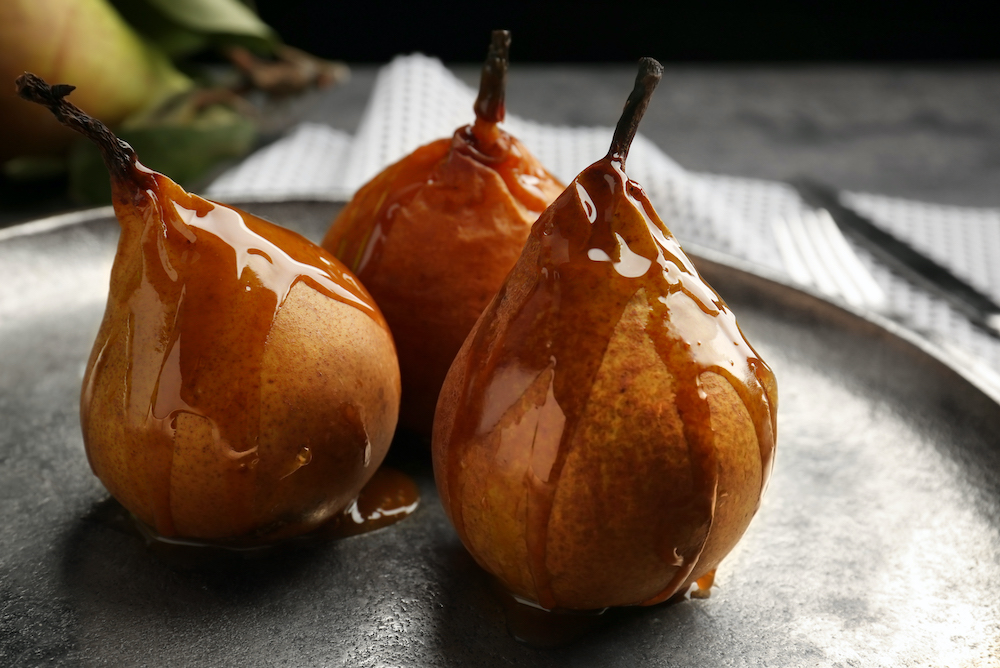 🖨️ Print post
The pear is a relative of the apple and a native to the temperate regions of Europe and Asia. Pears are good sources of fiber and contain phosphorus and carotenoids as well as ellagic acid, a substance that protects against cancer. The ancient Chinese valued the pear for treatment of the stomach and lungs.
There are many delicious varieties of pears. The best for poaching and baking purposes are the bartletts.
This recipe appears on p. 577 of the book Nourishing Traditions, and we've decided to include it in our "recipe of the week series" now because pears are in season! We recommend you use organic ingredients. Serves 8:
Ingredients
8 whole pears
½ cup lemon juice
1 cup red wine
½ cup honey or maple syrup
½ cup sweet cream sauce, optional
Instructions
Combine lemon juice, wine and honey or syrup in a small pan. Bring to a simmer.
Peel pears and core from the bottom end.
Set on sides in a buttered pyrex dish and pour the wine mixture over them.
Bake at 350 degrees for about ½ hour, turning and basting frequently.
Carefully remove pears to a bowl and chill well.
Meanwhile, pour syrup into a small saucepan and boil down until it thickens. Let cool.
To serve, place pears on individual plates and spoon sauce over.
For a more elegant presentation, place pears on individual plates and place one large spoonful of thickened sauce on one side of the pear and one large spoonful of optional sweet cream sauce on the other side of the pear. Let the two sauces run together slightly for an interesting pattern.
🖨️ Print post