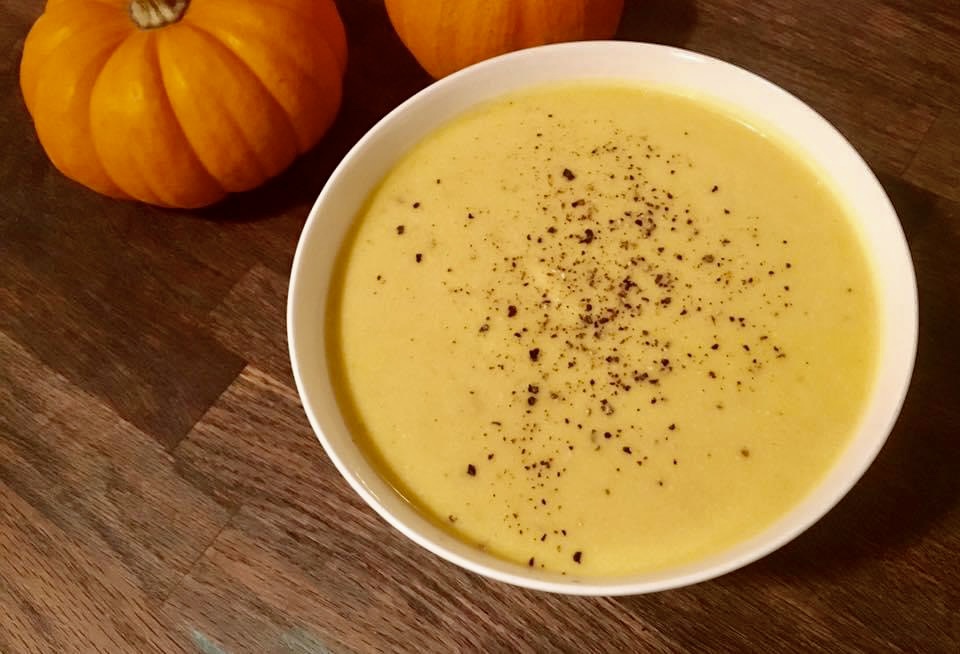 🖨️ Print post
This is an easy pumpkin bisque made with fresh pumpkin that is very fast to make. Thick, creamy and full of flavor: sweetness from pumpkin, savoriness, garlic and onion.
Use Kuri pumpkin (no need to peel), Kabocha pumpkin, sugar pumpkin or butternut squash.
Ingredients
About 2 lb pumpkin 
1 onion
3 garlic cloves
2 tablespoons coconut oil
4 cups of chicken broth or water
2 cups presoaked cashews [Instructions may be found in this article that you need to scroll down to see.]
Salt and pepper 
Instructions
Sauté roughly chopped onion and garlic gently in coconut oil, until edges are getting slightly brown.
Use for sautéing same pot where you going to make a bisque-enameled cast iron, etc.
Add broth or water and roughly cubed pumpkin.
Bring to a boil, then reduce heat and let simmer until pumpkin is tender, about 15 minutes.
Add cashews, salt and pepper.
Remove from the heat.
Blend it smooth, using immersion blender.
Pumpkin soup will keep in the fridge for 4 to 5 days, or can be frozen for 3 months.

Different flavor suggestions: turmeric, ginger, nutmeg, cinnamon, red curry paste, curry powder, red pepper flakes, Garam Masala, cumin, sage, rosemary, thyme, coriander seeds, smoked paprika, etc.
🖨️ Print post