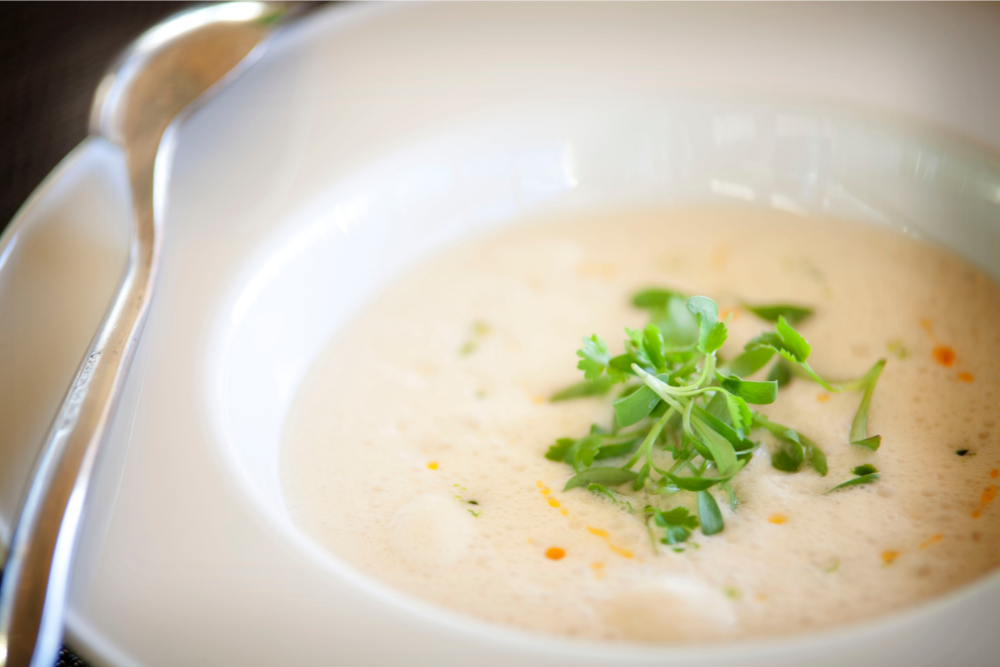 🖨️ Print post
This simple but flavorful soup is a good way to begin a rich meal like Thanksgiving dinner; served in a mug, it is a powerful and comforting remedy for colds and sore throat. This recipe appears on page 198 of the book Nourishing Traditions. Serves 4. Variation: Coconut Turkey or Duck Soup — Use turkey or duck stock instead of chicken stock.
INGREDIENTS
1 quart chicken stock
1 ½ cups whole coconut milk or 7 ounces creamed coconut* [see note below]
¼ teaspoon dried chile flakes
1 teaspoon freshly grated ginger
juice of 1 lemon
sea salt or fish sauce
several green onions, very finely chopped (optional)
1 tablespoon finely chopped cilantro (optional)
INSTRUCTIONS
Bring the stock to a boil, skim any foam that rises to the top and add coconut milk or creamed coconut, lemon juice, chile flakes and ginger.
Simmer for about 15 minutes.
Season to taste with salt or fish sauce.
Ladle into soup bowls or mugs and garnish with onions and cilantro.
* Creamed Coconut
Found in the refrigerated section of Asian and Indian markets and in some health food stores, creamed coconut is made of finely ground fresh coconut meat with all of its valuable oil. The hard white blocks melt when added to broth, soups, sauces and curries. This is a wonderful product that imparts a rich texture and true coconut taste to both main dishes and desserts.
🖨️ Print post