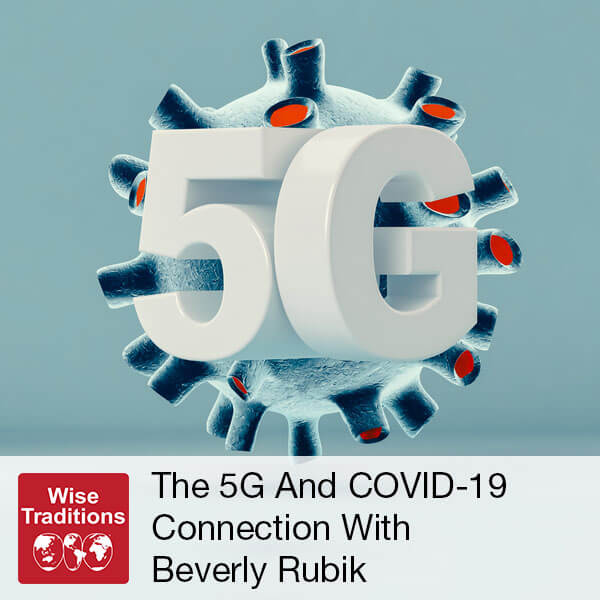 🖨️ Print post
Is there evidence to suggest a relationship between COVID-19 and exposure to wireless radiation, including 5G? Yes. Beverly Rubik, and her colleague Robert Brown, recently published a study in a peer-reviewed journal that concludes that non-native radiation is compromising our health and leading to symptoms that mirror those of COVID-19.
Today, Beverly talks about the correlation between COVID and 5G rollout when you look at maps of the two. She describes symptoms—hypercoagulation, hypoxia, headaches, fatigue, memory problems, oxidative stress, immune system disruption, heart arrhythmia, and more—that indicate Covid-19 and/or radiation poisoning. Beverly warns about more 5G being rolled out in January 2022. And lastly, she shares her own experiences with wireless radiation along with simple steps to protect ourselves from additional exposure.
See the study on the NIH website here.
Check out Beverly's sites: brubik.com and frontiersciences.org
Visit the Weston A. Price Foundation website.
Follow us on Instagram, Telegram, and MeWe.
Check out our sponsors: One Earth Health, Force of Nature, Optimal Carnivore
—
Listen to the episode here:
Episode Transcript
Within the below transcript the bolded text is Hilda Labrada Gore and the regular text is Beverly Rubik.
If only someone would do a study to see if there is a relationship between COVID-19 and exposure to wireless radiation, including 5G. This is episode 350 and our guest is Beverly Rubik. She has conducted such a study with her colleague, Robert Brown. It has been published in a peer-review journal that can be found on the National Institutes of Health website. She has had a lifelong interest in frontier areas of science and medicine that go beyond the mainstream. She is internationally renowned for her pioneering research, especially on biofield and energy medicine.
She talks candidly about the conclusion she found in the study. She talks about the amazing correlation between COVID and the 5G rollout when you look at maps of the two. She describes symptoms like hypercoagulation, hypoxia, headaches, fatigue, memory problems, oxidative stress, immune system, disruption, heart arrhythmia, and how these symptoms are indicators of COVID-19 and radiation poisoning.
She discusses the power of glutathione as an antioxidant but how its function is impaired by wireless radiation. She warns about more 5G being rolled out in January of 2022. Finally, she shares her own personal experiences with wireless radiation exposure, along with simple steps for how we can all protect ourselves from exposure to such damaging non-native electromagnetic frequencies.
Go to OneEarthHealth.com and use the code WISE20 to get 20% off and free shipping. This offer is only for a limited time and hurry because this offer will not last.
—
National Institutes of Health – Beverly's study 5G and Covid-19 on the NIH website.
—
Welcome to the show, Beverly.
Thank you, Hilda. It's my pleasure to be here with you.
I know we are going to dig deep into the science of how radiation from wireless communications is affecting our health. Before we go there, I want to talk about your own personal story. Tell us about a moment when you experienced some of this radiation and how it affected you.
Radiation is a factor in our increasingly ill health.
I spent a lot of time on the computer. These days when you buy a new desktop computer, it frequently comes with a wireless keyboard and mouse. They are all pretty snazzy with a lot of wireless. I'm sitting in front of this computer and I'm using it for more and more hours. I started getting irregular heartbeats and palpitations. It's very unpleasant. I didn't connect it to my new computer or this wireless aspect of it because I have only wired internet, both at home and in my laboratory. It dawned on me, "I have a wireless keyboard and mouse. What am I doing with this? This is a desktop computer. I'm not running around with it." Why is it coming like this?
I replaced the keyboard and mouse with wired versions and my heart palpitations went away. Some people my age who might have similar symptoms may be run to cardiologists and even get pacemakers for problems like this. We need to get to the first causes of some of our health problems now. Increasing exposure to wireless communications radiation is a factor in our increasingly ill health. We need to grab it by the horns, wrestle with it, reduce our exposure and take various measures to protect ourselves and our families.
We need to do something about it and that's exactly why we are having you on the show. I want to ask you about a study that you published that suggests a connection, which may even be more alarming to our readers between the Coronavirus disease and our exposure to radiofrequency radiation from wireless communications. Tell us about that study. What got you going in that direction and what was its conclusion?

What got me going was the study I did for the Weston A Price Foundation back in 2014, where I tested 10 adults, 21 to 75 years old, and found that 9 out of 10 reacted in the blood. This was exposure to 45 minutes of a cell phone worn in a backpack, not even working with it. I looked at their blood under a microscope before and after this exposure and I saw rather distinctive changes in the blood going from beautiful single-cell red blood cells migrating around to clumpy blood aggregates and what we call rouleaux which are rolls of red blood cells stacked that are not good. They are one of the signs of hypercoagulation or clotting blood.
As I learned more about COVID, first we thought it was pneumonia, then we realized it may come in through the nose and throat but it was a vascular disease with clotting going on inside the blood vessels. I thought back to my study of 2014 and I said, "I wonder if there is a relationship here," because in Wuhan, China where this disease apparently began, they had turned on 5G. As others had published in regions of the world where 5G had been at least partly implemented, that's where the pandemic spread initially like Northern Italy, Silicon Valley, Seattle, New York City, Los Angeles, and South Korea.
These are the places in the world that already had a 5G rollout, at least in part. If you look at a map provided by the John Hopkins Center for Epidemiology. That map has been published in my peer review and rebuttal on the journal website. You can see an amazing correspondence of this 5G rollout and the beginnings of the pandemic as it spread throughout the world. I noticed that and I said, "This can't be ignored," yet nobody is talking about any environmental factors in this pandemic. That surprises me too because environmental factors are always involved in something as big as a pandemic.
Even though they are not talking about it, I feel like people's eyes are slowly opening to the possibility that their environment may be affecting their health. People are fleeing from the cities and snatching up land, and the countryside and rural areas because maybe on some intuitive level, they see what's happening.
They are also very upset with the policies going on in their states. I live in California, one of those states where people are fleeing but going to states with very different politics because the COVID measures are so absurd here in California with ongoing lockdowns, masks, indoor and out restaurants not even open on the exterior for the vaccinated. It has been very difficult here. I didn't find those things for example, in Texas, where the Weston A Price Foundation Annual Conference was held in November 2021. Everything was free and open.
Let's talk about this study because if there is a relationship between radiation from wireless communications and the Coronavirus-19 disease, this could be a game-changer for us if we pay attention. Let's talk about some of the symptoms that you see that overlap between Coronavirus Disease 19 and radiation sickness like blood changes.
We saw six areas where there's an overlap in the adverse reactions to wireless radiation from our cell phones, etc., and the manifestations in COVID. These may be mechanisms in the clinical progression of COVID or they could also be generated by wireless exposure. In our paper, we proposed that there's a link. We are not saying that this is causal but we question it and we are raising discussion and hopefully further studies to explore this link.
Blood changes are one of them. With that, we see just as I had seen under the microscope looking at people exposed to cell phone radiation shape changes in blood cells are quite consistent for exposure to microwaves, not just cell phones but Wi-Fi routers and smart meters, and all the various sources in our environment. That means red blood cells tend to stick together and form these snake-like formations called rouleaux, where they stack in piles. Rouleaux is the French word for a stack or a roll.
Aggregation of red blood cells is an early stage of hypercoagulation, and COVID is all about that. That's one of the later stages of COVID. The blood vessels have receptors for the virus all throughout the body and the virus can go there, and bind, causing blood clots, and even blood clots in the tiniest vessels. Sometimes in a disseminated way, throughout organs and that can lead to organ failure in the most dramatic cases and deaths.
In the least dramatic cases, it would lead to things like headaches and fatigue. The blood is not flowing properly, so it caused some of these disruptions that we may perceive as simple annoyances.
That is very common reaction wireless or too long in an exposure. People get headaches. They are exhausted, have brain fatigue, memory problems, and many things. Also, in the literature, we found that over long-term exposure to wireless, there's a reduction in the number of red blood cells and hemoglobin and that could cause hypoxia.
Hypoxia was one of the symptoms of COVID, a lack of oxygen. As you may remember, lots of people were put on ventilators thinking they've got pneumonia and not getting enough oxygen. Let's give them air in and out, and that didn't work. In fact, it killed people. It wasn't a failure of the lungs. I'm proposing that it's a failure of the blood to carry oxygen because of these blood changes.
We need to eat lots of antioxidants from fresh vegetables and fruits.
I want to ask you about another condition that can result from radiation exposure that seems to be a similar symptom to COVID-19 is oxidative stress. Can you tell us more about that?
Oxidative stress is about the production of free radicals. These are highly reactive chemical species that can damage biomolecules and your tissues. They can oxidize DNA, RNA, proteins and make them dysfunctional everywhere in your body. We always have this going on but exposure to microwaves or wireless communication radiation increases this oxidative stress and the free radical formation, so we get even more chemical damage.
There's a particular biochemical within us made in the liver called glutathione. It's the master antioxidant that fights oxidative stress. After exposure to wireless and also in COVID, levels of glutathione are down and dysregulated as a result. There's another similarity between exposure to microwaves and COVID.
Sally would say, "Glutathione is found in raw milk." It's another reason to up our intake of this natural healing food.
We need to eat a lot of antioxidants. Fresh vegetables and fruits would be exceptionally good to help build that. There's also a supplement if people are into that and that's N-acetyl cysteine, which can help boost glutathione because it's not something easily absorbed when you take it orally. It's because it's a protein, it can be broken down in the stomach.
One can also take liposomal glutathione. It's already packaged in a tiny membrane of fats and that protects it to get through the stomach digestive process, and so it can get absorbed in the small intestine but it's best to make your own. To stimulate your body to make your own glutathione either taking N-acetyl cysteine also called NAC or simply eating a diet rich in vegetables, both raw and cooked in a great variety of colorful vegetables.
To go back to the blood changes, we talked about how exposure to smart meters and Wi-Fi routers can lower our body's functions and affect the blood. I have seen online some covers for these things that maybe mitigate the strength of the radiation. Do you think that's a good idea?
Again, it depends on how people use their phones. Lots of people have their phone on all the time and they put it in a pocket. That's problematic. The less you have wireless devices on your body that includes tablets sitting on your lap or notebook computers perched on your lap where you are typing away, that's not a good thing. You want to keep these devices away from the body. Shielding helps but shielding is never 100% shielding. There's always some of the signal getting through and in many cases. Those are some of the measures of protection.
There is immune system disruption when we are exposed to radiation. Talk to us about that.
It's interesting because there's a whole literature on the immune system and how it responds to microwaves. We say disruption or dysfunction because sometimes studies have shown immunosuppression. In other words, the immune system is not performing well. In other cases, it's showing a hyperactivated immune system to the point of autoimmunity. Both extremes are problematic. We want an immune system that is somewhere in the middle, balanced and operating to fight off intruders but not attacking ourselves.
We get also hyper inflammation with exposure to wireless communication radiation. There's even evidence of the so-called cytokine storm that was seen with COVID in the most severe cases. That means the immune system is so aggravated and hyper-inflamed that you start destroying your own tissues and that's what happens when you pass away from the virus. It's not so much the virus doing the damage. It's that your immune system is so exacerbated and hyper-inflamed that you are destroying your own tissues.

I have heard that autoimmune disease is like that when the body turns on itself. Is that the thing you are describing?
Autoimmunity is on the rise and autoimmunity to about every organ-like thyroid or stomach. Your own DNA, that's lupus, where you make antibodies to your own DNA. It's debilitating. People can die from these diseases. There's a lot of immune disruption going on due to wireless that has been an unrecognized factor, not only in COVID but in all these increased autoimmune diseases that we find in our society.
That's why I'm glad you are pursuing this in your study and line of work. Talk to us about a couple of more similarities between exposure to radiation and the COVID-19 disease. I understand increased intracellular calcium was a part of your study.
When the body is exposed to microwaves, something called the voltage-gated calcium channels, which are on the outer membrane of our cells opens up and allows more calcium to go inside our cells. Calcium is one of those highly regulated constituents of our bodies. It's almost like a second messenger to hormones. When calcium goes up inside, this can disrupt a lot of pathways in the body. One thing is known does that most viruses need and help increase the calcium inside cells, so they can get in, replicate themselves, and then get out and infect other cells. It's an essential thing for a viral infection to have this calcium go up and microwave exposure makes it go up.
—
Go to ForceOfNature.com and they will ship your order directly to your door in a few days. As a perk for being a reader, they are offering 15% off your first purchase, if you enter the code WISE15 at checkout. Be sure to use all caps to apply the discount.
Go to Amazon.com/optimalcarnivore and use the code WESTON10 to save 10% on all products.
—
Do you believe then that our exposure to wireless radiation is increasing our susceptibility to a virus or do you believe it's causing COVID-19?
We need an open discussion on the environmental factors in this pandemic rather than bashing and censorship.
There is a virus out there because of the relatively high fever that people get, which is the bottom line, the symptom they always say is the most common denominator symptom of all the COVID cases. I have never known microwaves or millimeter waves to cause fevers. That seems to be unique to viral infections and also bacterial infections. You get a fever when you have been invaded by a virus or bacteria. That suggests to me that there's more to this than 4G and 5G of wireless.
Some people think it's all about wireless and one could make a case with my paper that certainly linked, and now it needs more work to take a look but I do believe that there's a virus because of the fever aspect and because of the microbiology that has already been done on this virus and I read the medical literature. There are other people who don't believe in viruses at all or virus deniers but I wonder if they ever touched a virus in the laboratory like me. I'm convinced there are viruses. I worked with them in graduate school and my training as a biophysicist.
There are others who say, "There's no such thing. It's an artifact and it shows up with the generation of electricity, radar, and then wireless. I don't agree with that but I certainly do respect other people's opinions. We need an open discussion on this question rather than the bashing and censorship that has been going on in discussing environmental factors in this pandemic.
We also value different points of view because the foundation does lean toward being virus deniers if you will. It does lean toward a sense in which, we are not battling something outside of our bodies so much as upgrading or having the bodies deal with maybe this 5G and other radiation concerns. The fallout is the symptoms, these things you have been discussing, the blood changes, the immune system disruption, and even cardiac effects. We can agree that these things are happening. Tell us more about what effects radiation can have on the heart.
One thing I want to say further on viruses, people talk about the microbiome. That's something most people know about that they have important microbes living in balance in their guts, skin and every organ has a microbiome but did people know that there's also a virome? In other words, there are natural viruses living within us that are also balanced when we are well. That's something most people talk about but it needs to get out there to educate the public that natural viruses aren't necessarily going to attack us like we have a lot of good, healthy microbes and we want to eat well to nurture that balance within us.
That is in keeping with our philosophy. We want to nurture and promote health as a foundation and as people in team humanity. The idea is to prevent illness and shore the body is up so it can manage it when it does encounter it. We are all about that. Talk to us about what the effects are on the heart of wireless communications radiation.
I already described my personal experience with heart palpitations, sitting in front of simply a wireless keyboard and mouse. Those aren't major emitters but if your body is pretty close to the mouse and keyboard. After hours of exposure, you might feel something. You might feel exhausted and have palpitations as I did. Heart arrhythmias are one clear effect of the wireless and increased stress response. This means is that the fight or flight response is turned on and is too strong and becomes the dominant physiology that you are constantly fighting stress that you never relax.
People become addicted to looking for their email or social media to get the thumbs up or that little chirp. That has become endemic to our society. It's now one of the major ways that we interact, especially after lockdowns and things. It became even more prevalent. We have an increased stress response, arrhythmias, and other cardiac disorders.
With COVID, you might get some of these tiny vessels that have a clot and that builds into a bigger myocardial injury, even heart attack. There are cardiomyopathies and even heart failure in very severe cases but it all starts with blood problems with COVID. Blood cells piling up, starting to clot, those clots are building, and then heart irregular irregularities from that.
It seems to me also that some people who have gotten the vaccination or injection have gotten these responses, too. I remember seeing a video of some scientists in Europe who were like, "Look at this rouleaux." They were pointing out the strange formations in the blood that they had never seen before. Have you heard of that as well? I know that's not in your study but I'm curious.
It's not in my study but I have watched some of those same videos with great interest because I do blood microscopy. When I saw that as well, I said, "This also looks like exposure to microwaves, what the blood does." The vaccine, especially the ones with messenger RNA or mRNA, is giving the body the code to make the spike protein, which is the little protuberances sticking out of this virus if you have seen that model. The virus is a sphere with little knobs and we call those spikes.

When you get those vaccines, you get the ability to make the spike protein, which turns out to be the most toxic part of the virus. I don't know what they were thinking when they created a vaccine with the most toxic active part of the virus that is going to be made in every cell in your body but that's what you make. As a result of that, you have changed in the blood and also myocarditis, especially in young men getting the vaccine.
I have an idea what that may be due to even though this goes beyond my paper. In the past, when people got injections, they put the needle near your deltoid muscle in the upper arm. They always aspirated the needle. In other words, they pull the plunger and the needle back to look and see, there are lots of blood coming in. That's called aspiration. To look and see, did you hit a blood vessel with that needle or not?
They are not doing that aspiration when they give these shots. In fact, I spoke with the nurse and she said they stopped doing aspiration with needles for vaccine injections. Young men are more muscular and have more developed veins, structures, blood vessels in their arms than most of us who are not so muscular there. They may be injected into a vein, which then takes this vaccine right to the heart and maybe contributes to the myocarditis cases that we see in young athletic men. That's my guess.
That seems like a very plausible guess because I have also noticed many athletes keeling over, young men who should be in the prime of their lives. It makes one wonder if nothing else.
Cardiac effects also from the vaccine, which gives that toxic piece of the virus, the spike protein or the capacity of the body to make that spike protein is also challenging the heart. Myocarditis can be a serious condition and people can die young. They can keel over. They can require everything from pacemakers to heart transplants if it's severe enough.
We have talked a lot about these issues that come from exposure to wireless communications radiation, and that may be making us more susceptible to COVID-19, and it's also the overlap of the symptoms of both issues. What can we do in light of all this? Does your paper, team or you have any solutions or help for us?
There has been a great number of activists trying to stop the rollout of 5G, especially the wireless infrastructure, the antennas, and the base stations are the big emitters. There are also plans for up to 100,000 satellites to orbit the Earth to bring this wireless worldwide web everywhere. My paper called for a moratorium on 5G on this wireless aspect because to date, we have no health and safety studies on the digital pulse devices that are 5G and the combinations of them.
A lot of studies are on single devices but our world is no longer single devices. We've got smart meters, Wi-Fi routers, and cell phones. Soon there's going to be the Internet of Things, self-driving cars, and these emitting satellites. I heard they are going to turn it on January 5th, 2022 or start turning it on. Beware. It's coming to your neighborhood soon.
I had advocated a moratorium and that is we need to stop and study the effects of these multiple communication frequencies on our health because we don't know. We have a lot of studies on single frequencies that I cited in my paper but the combinations might well be synergistic and more damaging. We don't even know.
I'm so glad you mentioned the compounding nature and what it may be doing to us because I interviewed someone about skincare products and how a lot of the companies that put forth balms, lotions, creams, and even makeup. They will say, "This only contains a little bit of a toxin. It's not that much," but women often use more than one product to soften their skin or get the glow that they want on their faces. What they are not looking at is the compounding nature and even the combination of these different toxins on our bodies.
There's also a link between chemical toxins and Wi-Fi toxins because wireless opens up the blood-brain barrier. Some of these chemical toxins that otherwise would not get into the brain can get into the brain. We need to talk about exposure to electromagnetic fields in tandem with chemical toxins from our environment, cosmetics and agrichemicals. I'm thinking of glyphosate and Dr. Stephanie Seneff's work and how when that gets into the brain, it's very bad news. Also, the synergy with mercury and now with wireless.
We need to stop and study the effects of multiple communication frequencies on our health.
You are calling for a moratorium on 5G for us to stop and pay attention. You have also mentioned that distance is our friend. It's a good idea to not wear the device on our bodies and to have as much space between us and any routers, microwaves or cell phones. What other recommendations would you suggest that we can mitigate the effects of this radiation?
First of all, people often ask me, "Is there any one thing that does it all?" The answer is no. There are partial solutions here and there with various protective devices. I suggest you don't keep your phone turned on in a pocket, a bra or certainly don't place it next to your ear when you talk. Use speakerphones. Keep your phone elsewhere. Keep it on airplane mode. Think about a wireless tablet or wireless notebook computer. Don't place sit on your lap and work. That's right near you made your organs. We have to think about this. Also, children should not be encouraged to play with these things. They are not pacifiers.
I have everything wired except for my cell phone. I have wired routers both of my laboratory and my home. In other words, I never followed this fad of wireless. I retained my wired router. It's still possible to give up wireless and go back to wires and get internet DSL with the old cable that's put into the computer. If you've got modern devices, you no longer have that port for the old DSL. You can buy an adapter. It's possible to return to wired. Our mantra should be, we want wires whenever possible and to eliminate wireless.
Most of the hearing aids for the elderly are based on Bluetooth, another wireless pollution. You've got it right near your brain with these hearing aids but there are some brands of hearing aids that also are not wireless. We need to get wise. To know where our greatest exposures are, it's helpful to get a handheld meter. It costs a couple of hundred dollars or maybe families or neighbors can share them, and then measure where you spend the most time.
In other words, in your bed, home office, or wherever you sit, sleep, and work, measure it and see what's going on to make the wireless values higher and remove those items. Things such as cordless landline phones are bigger emitters than even our cell phones and they emit all the time. Get rid of them.
We have a landline and we do our best to do some of these things you have suggested. Wise and wired is a good mantra for 2022 but what do you say to the skeptic? Who's like, "This is a lot of hype. Wireless things are here to stay. I don't want to be a Luddite. There's no connection between wireless communications radiation and COVID-19."
The Federal Communications Commission or FCC is the one that calls the shots on wireless. They have determined that we can have so much radiation in this country. We have the highest guideline limits of all nations, Canada and the US. Russia, China, all of Western Europe has lower ceilings on this. We have some of the most ill health in this country. We ought to take a look at that but there was a lot of dialogue in my paper with the peer review and there were twelve international experts that reviewed my paper.
The peer-review and rebuttal discuss a lot of this. There are 73 pages where we go through some of these arguments for the skeptics who say, "There's no relationship here." We turned around virtually all of the peer reviewers to realize that there is a relationship that needs further exploration. We are not saying that 5G causes COVID. I'm not reaching out with a conclusion that strong but to say that there's a link and we need further discussion, and we have proposed further experiments to prove the causation if it exists in animal models. Humanized mice exposed to the virus in tandem with a Wi-Fi router are very simple to do. We would know the answers to that in a few months.
Can you do that study?
My laboratory is not set up for animal research but I would be happy to work with others if they do have such a lab and can find the funding to do it. Something else that my lab is working on, people are going to say, "How do I'm exposed to 5G?" Any frequency above 6, 7 gigahertz cannot be measured with any of these handheld meters. That's a problem because 5G goes up to 95 gigahertz. Not all of this has been put out yet, but there's a giant range from 8 to 95 gigahertz that you can't measure yet unless you've got access to $100,000 military-grade equipment.
My lab is working on a people's meter for 5G. I'm putting that out there because we need more help. We need more funding to finish this project. We will probably be licensing it then to a company to manufacture them. As 5G is going to be turned this year 2022, people will want to know, yet they won't be able to measure their exposure. That's a hideous situation.
I'm so glad you are moving in that direction of getting a people's meter out there and you have some new efforts you want to make. I have to ask you if a reader could only do one thing to improve their health, what would you recommend that they do?

I suggest that they become more conscious of the use of wireless in their lives and how they might reduce it. That means putting your phone on airplane mode. That's a simple thing you can do when not in use and turn it on when you want to see, "Did someone text or call me? Do I need to get in touch with someone?" Turn it immediately back off to airplane mode. The cell phone has become our number one communication device and it causes the most harm because it's close to us, and it's on the body, etc.
Thank you, Beverly, for your insights and your time. I am extremely grateful.
Thank you, Hilda. It has been my pleasure.
—
Our guest is Beverly Rubik. Check out her websites for more resources, BRubik.com and FrontierSciences.org. You can find me at HolisticHilda.com. For our review from Apple Podcast. Dana Luna says, "Thank you. I am a mother of 2, a 10 and a 9-year-old, and navigating these crazy times has been so intense and wild. At times, it seems helpless to live in the world as it is. This show gives me hope for a more natural, connected, real future and I am so grateful."
Dana Luna, we are thankful for you. Thank you for reading, sharing the episodes, and for posting a review. You too can leave us a review on Apple Podcast. Go to Apple Podcasts. Click on ratings and reviews. Give us the number of stars and tell us what you think of the show. Thank you so much for reading. Stay well. Hasta pronto.
Important Links:
About Beverly Rubik

Dr. Beverly Rubik has had a life-long interest in frontier areas of science and medicine that go beyond the mainstream, and she is internationally renowned for her pioneering research, especially on the biofield and energy medicine. She earned her Ph.D. in biophysics at the University of California at Berkeley and has published over 90 scientific papers and 2 books. From 1988 – 1995, Dr. Rubik was director of the Center for Frontier Sciences at Temple University in Philadelphia. From 1992 – 1997, she was one of 18 Congressionally-appointed members of the Program Advisory Board to the Office of Alternative Medicine at the US National Institutes of Health (NIH), which was the precursor to the National Center for Complementary and Integrative Health. In 1996, Dr. Rubik founded the Institute for Frontier Science (IFS), a 501c3 nonprofit research laboratory, now in Emeryville, CA, which was initially funded by Laurance Rockefeller, Sr., and later supported by NIH and others. Dr. Rubik is an adjunct faculty member who teaches energy medicine to doctoral students at the College of Integrative Medicine and Health Sciences at Saybrook University in Pasadena, California. Presently she is conducting research on the effects of wireless radiation on health, among other topics. Dr. Rubik has been widely interviewed in many media outlets, "Good Morning America" (ABC-TV). She is an esteemed speaker both nationally and internationally on various scientific and health-related topics.
🖨️ Print post